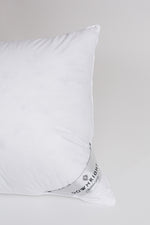 All down is not the same & our friends at Downright, a Brooklyn based down company, explain:
Down from larger, mature birds means a better ability to loft & a higher fill power. Fill power is measured by the amount of cubic inches that one ounce of down will fill once it expands. This means that a higher quality comforter will actually weigh less than a heavier, lower quality one; yet still provide more warmth, fluffiness, & lightweight comfort.
Not only will this type of down give you the full, luxurious look for building the perfect bed but the down products from Downright are also 100% hypoallergenic.  How is this possible?  Well, they have an exclusive process whereby production begins with the feathers going through extensive washing and rinsing that give cleanliness without negatively effecting the volume and uniformity -- all while conforming to the widely accepted Oeko-Tex, Standard 100, certified to be virtually free of all harmful chemicals.