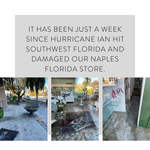 First and foremost, all
Gattles
employees are safe. We immediately started cleaning up. Currently we have only partial electricity, but we have cleaned up the sand and mud that was brought in by 6 to 12 inches of water that covered our floor. Stacey and crew moved all our inventory out of the store into our warehouse and climate-controlled storage. Very little inventory was damaged as most was high and dry off the floor. We continue to press forward to re-open as soon as possible.
We will keep you updated.
Please know our Harbor Springs, Michigan store is open and the manager, Sabrina Gamble, can work with you on any needs you may have at
Gattles
. Harbor Springs Store number 231-242-4377,
sabrina@

gattles

.com
.
In the meantime, you may shop online at
gattles

.com
.
Thank you for your patience.
- Tom
Gattle
, President