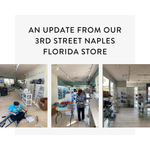 Since the end of September, when Hurricane Ian made landfall in Southwest Florida, the communities have been hit hard by this destructive Hurricane. Many Floridians have been working diligently to clean up and get back to normal. It amazes me how people come together in support of others during times like these. Our staff at Gattle's Naples, led by our manager, Stacey, have been working steadily to get our store open for our customers. I am pleased to announce that we intend to open the Naples store on November 1, 2022. We may not have all the pieces put back together, but being open in any capacity is better than not opening. You can see in the attached pictures that we are closing in on the finish line!
We are so grateful to our customers, vendors, and friends who remain patient and giving in this process. We look forward to seeing everyone and helping you in any way we can in the recovery process. Please feel free to contact Stacey at 239-262-4791, 
Stacey@gattles.com
; Tray at 239-774-4464, 
warehouse@gattles.com
; Sabrina at 231-242-4377, 
Sabrina@gattles.com
 should you have any questions or needs. Be sure to visit Gattles.com for any online items you may need.
Gratefully,
Tom Gattle
President